Measures Addressing Environmental Problems
The Ministry of the Environment offered a letter of appreciation to the nationwide Oshibori Cooperative Union in 2008. Our Rental Oshibori is an eco-friendly product compatible with our 21st century recycling society. We strive to establish the cyclical use from delivery to pickup.
Eco-Friendly Leading Product 'Oshibori'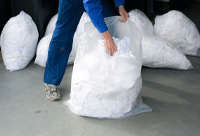 Rental Oshibori is a versatile product which has embraced the 3 Rs: Reuse, Reduce, and Recycle. Our company has also included the Repair of Oshibori to reflect a 4R mentality.
Oshibori is made from a water-absorbing towel cloth and usually used as a hygiene product to wipe hands and faces. At the end of its usefulness it will be used, nationwide, as a waste cloth in such places: restaurant kitchens, paint factories, automobile manufacturing plants, etc.
We actively engage in activities that contribute to society which includes supporting relief in disaster area sites. One of our goals is to maintain a strong communal relationship at all times.
Separate Waste for Recycling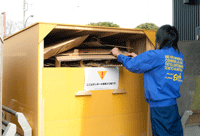 We also recycle all the waste products such as: cardboard boxes, waste plastics, fluorescent lights and bulbs, scraps of iron, etc. Rental Oshibori is individually-wrapped in a plastic bag to keep fresh and hygienic. As for the film, each clothe is individually inspected and cleaned with centrifugal force.
Recycling All the Waste Products
We have expanded an e-commerce business 'e-shizai market (http://www.e-shizai.net)' for carrying the commercial use and consumable goods for Rental Oshibori customers. In addition to Oshibori, shipment and delivery of our consumable goods can be readily ordered regardless of the order amount.
Recently, we have offered the delivery of these consumable goods to our customers even in a small lot order with quick service. In recent years, a number of eco-friendly product lineup e.g., coaster made from eco-friendly natural kenaf fiber.
Also we pick up the empty bottles of dishwasher detergent and 18 liters dish detergent for recycling, in cooperation with its manufacturers. This will enable us to decrease waste by our customers and contribute to recycling movement and the reduction of environmental burdens.
Oshibori Washing and Drainage Treatment
We are highly motivated to preserve and better our environment. Our company has obtained a special license, poison and hazardous materials control, designed to chemically neutralize waste water before exiting our factory. We have pledged our sincerity to honor our commitment to safe-guard our children's future
The Reduction of Carbon Dioxide Emissions during Oshibori Delivery Transportations
There are about 50 routes, day and night, delivering and picking up. Oshibori, face towels, mats and mops to restaurants, golf courses, offices, hair and beauty salons, esthetic and nail salons, etc.
At these regular logistic fields, we seek to reduce the environmental burdens. We select eco-managers to instruct our drivers to perform their duties at optimal standards at all times. Carbon dioxide can be readily reduced with proper training and a good mindset.
We periodically operate vehicle inspections. The vehicles that are high fuel consumers will be maintenance and the crew evaluated for their performance. Our delivery routes, long and short distance, are carefully scrutinized to emit the minimum amount of carbon dioxide possible.
IN 2006, our company made available the option to pay at local banks and convenient stores in hopes to reduce travel CO2 emissions.