Social and Regional Contribution Activities
We are privileged to accept student internships through cooperative arrangements with local junior high schools and high schools for our Oshibori Headquarters Factory in Kunitachi, Tokyo. Students will learn that Oshibori making requires more effort and time than expected through the experiences of company interning. There are many different process to manufacture Oshibori. They will also gain hands on involvement with our corporation and build teamwork skills within our work groups. These life skills will greatly impact the future of our communities' well being.
Our company is proud to have supported local events. We have donated eco-friendly Oshibori wet wipes for Int'l Conference in Bankoku Shinryokan Okinawa Resort MICE Facility in 2006 and 2007. We will continue our social and cultural contributions to help bring people more aware of hygiene and Omotenashi hospitality. We are honored to lead towards a bright future today for our childrens' tomorrow.
Kunitachi Matobi
As part of community contribution activities, we have co-sponsored Kunitach Matobi.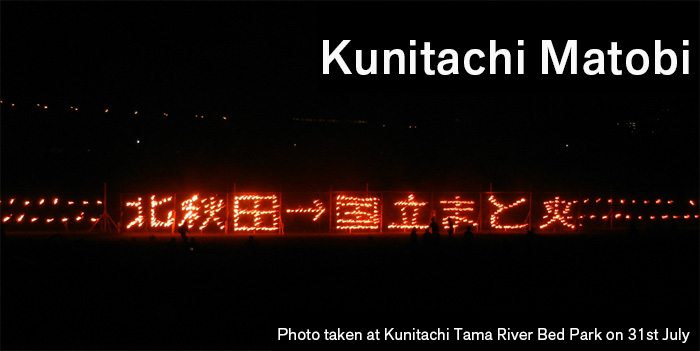 What's Matobi?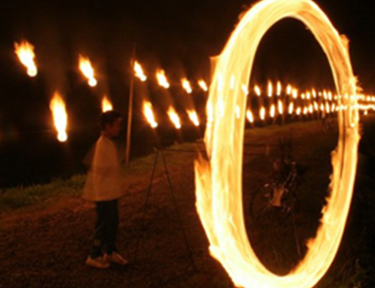 Matobi is the traditional bonfire event to welcome ancestral spirits held in Kita Akita City (former: Aikawa Town) in Japan. Local people gather and stiffen old clothes and rags to make it like cotton balls named Dambo, then burn Dambo on the Spring equinox in each village.
Every year on August 14th on Obon, about 1.2km on the banks of Anigawa (Ani Riber), about 200 Dambos are hung and illuminate the river. The burning fire appeared to have developed from customs that burned straw in front of the tomb. This became a popular event in the early Showa Era.
Why Matobi in Kunitachi, Tokyo?
Former Aikawa Town in northern Akita had been interacting with Kunitachi city including children's homestay. After the merger in 2005, Aikawa Town became Kita Akita City and the exchange had been discontinued once. Later on, the "Clean Tama River Kunitachi Executive Committee" who conducts the cleanup activities of the Tama River heard the story of Matobi from his acquaintance and examined it as a summer event lining up with Dondo-Yaki Fire Festival held in winter in Tokyo.
Kunitachi Executive Committee had visited Matobi in March 2014 and attracted by fantastical fire. Then they've operated and executed Kuntachi Matobi in Obon.
Lint of Oshibori are reused to become Dambo
Regular Dambo is made from old clothes and rags by gathering and stiffening them.
In Kita Akita City, each family makes one and offers it to the festival.
Now, we came up with an idea to use lint of Oshibori to make Dambo for Kunitachi Matobi. There are many falling fibers (lint) come out in our huge washing machine by washing our Oshibori everyday. Approximately 7kg per day on the condition which absorbed water. We squeeze the water out and make it into a ball. Dry it for a while till water is out. We form the shape by wrapping the ball with long rectangle fabric. After that, we hang it using needles and the Dambo preparation is done.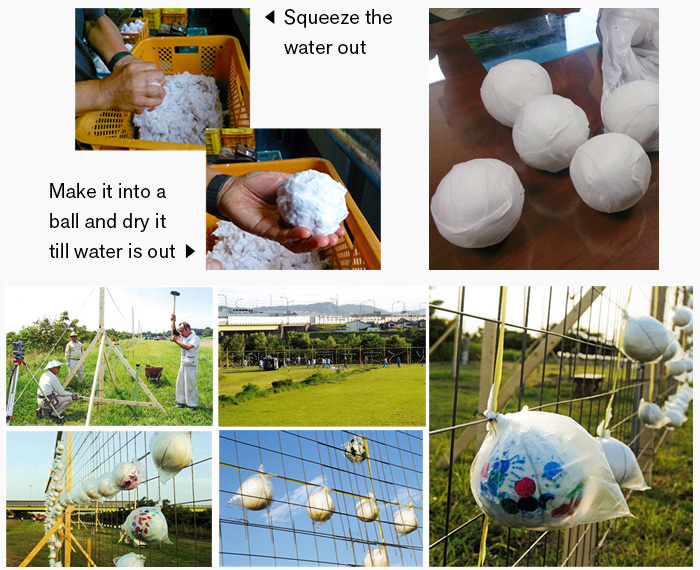 Fireworks for movement where as Matobi for Serene
We will continue Matobi activities as it will be a summer tradition of Kunitachi City.
Now we are preparing Lint balls for next summer.