We believe that Oshibori hand wipe has a powerful effect that have to put smiles to people's faces and raise their spirits. Provide a cold Oshibori on a hot day and hot Oshibori on a cold day makes people's body and heart warm. Use of Oshibori is deeply embedded in Japanese culture throughout history. It is said that the history of Oshibori started in the Heian-period (794-1185) or the Edo-period (1603-1868): at the lodges, a piece of cloth was soaked in water and given to travelers who stopped by to rest in the period. It gave them comfort from their long journey and was considered to be a heartwarming gesture.
We founded Fujinami Towel Service Co., Ltd. In Kunitachi, Tokyo JAPAN, in 1967, as a Rental Oshibori Company. In 2016, we re-innovated our company name as FSX, Inc. in the year of its 50th anniversary to redefine the company growth "centrifugal force" and corporate structure "centripetal force."
Our goal is to create new values in hand hygiene and hospitality based on the original Oshibori business, and to develop new applications and markets both in Japan and abroad. We will expand the possibilities of Oshibori by redefining it as a new culture for the times by combining Japan's unique Oshibori tradition with new technology, design, and science.
We continually contribute to domesticate Oshibori as manufacturing service industry that will convey our unique form of hospitality and we will strive to provide excellence in all we do to be a global Oshibori company.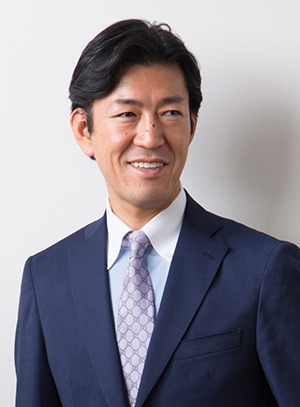 Katsuyuki Fujinami
President & CEO
FSX, Inc.