Provide a Comfortable Work Environment for All the Employees:
We are in the labor-intensive industry, and it increasingly becomes difficult to secure talented human resources.
To strengthen our business development further, we strive to provide our employees with great work ethics, an atmosphere conducive to training, and security in our employee retain ability.
Enhancement of Measures Promoting Work-Life Balance
Our company provides childcare sick-leave, supports retiree employment, and increases paid-time-off as no-overwork days. We continue to maintain a positive relationship with each of our employees through our integrity as a modern company. Programs in work: paid leave, family days, vacation factors, etc.
The Employment of the Physically Challenged
We have employed various people, each with different challenges, within our Oshibori manufacturing family. In our headquarters' factory in Kunitachi Tokyo, we positively employ handicapped people to support their social independence.
Working together with currently able-bodied workers, we delegate each worker to compliment their capabilities. Workers learn the importance of self sufficiency, hard work, and acquire job skills while achieving a sense of self-worth within society.
A Non-Profit Organization named Tomony
In February 2011, FSX, Inc. established the first privately accredited Non-Profit Organization named Tomony, literally means "togetherness", in Tokyo. This accomplishment has sparked a radical change in how our nation views its' challenged civilians. Tomony has become a model, for hiring disabled employees, in many private companies to "support continuous employment of the physically challenged-Type A Services".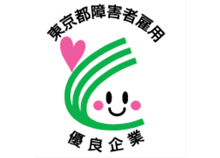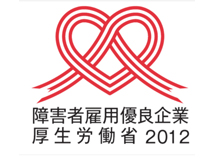 Corporate Development of Disabled Persons' Employment
In 1983 we actively began employing workers with disabilities. Under the Service and Supports for Persons with Disabilities Act, which went into effect in 2006, we've proactively proceeded to employ disabled people by mastering an adequate business operation with steady instruction.
As of 2013, the percentage of disabled employees at FSX, Inc. is 13.75% where as the legally mandated employment rate is 1.8%. We have therefore been certified as a blue-chip corporation relating to the employment of persons with disabilities and have been awarded an honorable recognition of our company by the Tokyo Metropolitan Government and Tokyo Metropolitan Board of Education.
The Purpose of Setting Up a Non-Profit Organization
The aim of TOMONY, a NPO Tokyo self-reliance support center is to support their independence and social participation by providing job training and work places. For the disabled person who has the will to work but unable to find the place to conduct appropriate training and work.
Approach to Disabled People Employment at TOMONY
Unfortunately disabled people have difficulty finding employment despite having received training and graduating from special schools. By utilizing the Government benefit, we are able to employ the students who lack vocational skills and support as many disabled people to become as independent as possible.
Due to the business depression and the minimum wage barrier, the majority of disabled people can only find work at vocational aid centers or sheltered workshops for the disabled. We would like them to work within an appropriate and sage work place; TOMONY therefore helping to develop their independence and self-confidence.
About Type A Business Model
① TOMONY is the first case of 'supported employment business facilities-Type A services' set up by a non-corporate Private company in Tokyo. Until now, 'supported employment business facilities-Type A services' were limited to a number of sheltered workshops for the disabled.
②TOMONY is a high-profile business model as if it proves to be successful it will encourage other private companies to do the same, therefore boosting overall employment of disabled people.
③Although some welfare offices and vocational training centers make the shift to A type service business nationwide, there has been the issue that they are unable to clear the minimum wages issue and closed its doors. Then they have to go back to welfare offices or vocational training centers as a result.
④It's quite difficult to operate Type A business from a welfare facility, however private companies have the know-how to improve educational leadership and general ability of the disabled. This is why we think private companies should work actively toward the launch of A type businesses.
Advantage (merit) of Establishing Supported Employment Business Facilities-Type A Services
Obtain the Government monetary incentive
Allocate specialists such as vocational training instructors and livelihood support staffs
Trainers within the workplace receive wage subsidy
Easy time saving to make them competent operators by tutorial training
Receive wage subsidy during training period until disabled employee becomes industry-ready
Easier to develop each carrier
Significant contribution to disabled person's independence