ISO Certification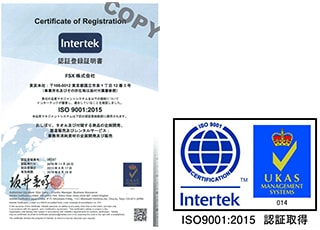 Quality Management System:ISO 9001:2008
We at FSX, Inc. received ISO 9001 certification and will provide better quality service to our customers.

Business Policy
1)The quality of our Oshibori wet wipe is the foundation of our company.
In accordance with this spirit, we re-discover the Japanese traditional Oshibori culture, and create
new values that positively contribute to the world.
2)To expand our business by growing our core business sales and finding new markets.
3) To conduct continuous improvement of our management systems to satisfy customer needs.
4)To provide thorough instruction in 7S* (Seiri, Seiton, Seisou, Seijou, Sakkin, Shukan, and Seiketsu)
to serve better service and products.*organized, clutter-free, clear-out, cleaning, sterilized, habitual practice and cleanliness.
5) To carry out well prepared quality control regime and rigorous quality inspection.
6)To continually improve information literacy and progress IT.
7)To develop human resources using a well-developed training and education system.
8)To provide a friendly working environment and strive to improve our employee life time value.
Certification

ISO 9001:2015

Number

06597

Date of Acquisition

17th August 2010

Organizations

Tokyo headquarters and Kunitachi factory

Scope of Registration

Oshibori wet wipe, towels and related product planning and development, manufacture and sales, rental service, and planning and development of commercial consumable goods.

Examination Body

Intertek Certification Japan Limited
(former: Moody International Certification LTD.)
Patents Granted
Japanese Patent

第4420997号 抗ウイルス剤
 
Registration No. P5314218 HEATED MOIST TOWELETTE AND METHOD FOR PRODUCING HEATED MOIST TOWELETTE
Registration No. P5279973 METHOD FOR PRODUCING LINEN PRODUCT AND CLEANING METHOD
Registration No. P5314219 AQUEOUS SOLUTION
Registration No. P5877925 紙おしぼり製造装置及び紙おしぼり製造方法
Registration No. P5925379 ウエットシート製造装置及びウエットシート製造方法
第6143316号 布おしぼり香り付け装置、布おしぼり製造装置及び布おしぼり製造方法
第6143318号 冷温庫
Winning-Awards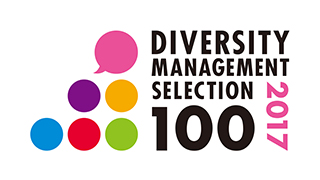 2017

Won the Incentive Prize in the 15th Courageous Management Awards organized by The Tokyo Chamber of Commerce and Industry

2016

Selected as the New Diversity Management Selection 100 in FY 2016
organized by the Ministry of Economy, Trade and Industry (METI)

2016

Selected as the growing small and medium enterprise 300
organized by the Small and Medium Enterprise Agency

2015

Won the Award of Excellence at business call-handling contests in the Central
Tama organized by Japan Telecom Users Association

2014

Won the Award of Excellence at business call-handling contests
organized by Japan Telecom Users Association

2011

Won the 9th Tama Green Award in Management Category
organized by the Tama Shinkin Bank